Day 206: Chicago Rarities Orchard Project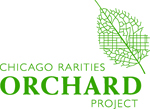 I went to get some lunch today at Uncommon Ground in Chicago, a great green restaurant in Chicago. They used to sell a Tree-Tini, where portion of the cocktail went to planting 10,000 trees in India. They have now turned their mission towards the Chicago Rarities Orchard Project, and introduced a new cocktail, AGRIPOLITAN, where .50 cents from each drink sold will go towards planting fruit trees in Chicago. 
Chicago Rarities Orchard Project is a brand new organization founded to establish "community rare-fruit orchards" in Chicago. These orchards, designed for reclaimed urban spaces, are dedicated to preserving a few of the thousands of varieties of tree fruit that aren't commonly grown by commercial producers.
Fruit produced from our orchards will, in part, be used to fund the project and also be distributed throughout the community. Additionally, using empty lots for orchards provides democratic improvements to Chicago, such as creating beautiful open spaces for our neighbors and educational opportunities for our children. 
They are currently working with NeighborSpace, a non-profit organization that connects gardeners with land in Chicago, to find a site for our first orchard. Once tey have land, it will still be many years before they expect any significant harvest. For this reason, they seek to establish an organization and community partnerships that will be sustainable for many years. 
Amount Donated: $5
To support Chicago Rarities Orchard Project, please visit: http://chicagorarities.org
2 Notes/ Hide
derrrickc33 likes this
communitythings likes this
livingphilanthropic posted this